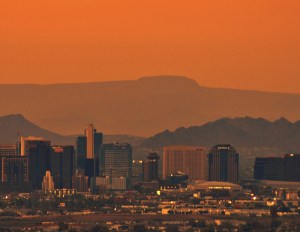 Greater Phoenix has become the epitome of economic development in recent years. Thanks to the region's tax-friendly environment, relatively low cost of living, favorable business policies and a growing talent pool, the Valley of the Sun is becoming a leading global region.
Phoenix grew faster than any other major city over the last decade, expanding its population by 11.2 percent with the addition of more than 160,000 residents from 2010 to 2020, according to the U.S. Census Bureau. Phoenix is now the country's fifth largest city, just after New York, Los Angeles, Chicago and Houston.
Buckeye and Goodyear, in the West Valley, were also among the nation's 10 fastest-growing cities during the past decade. Buckeye registered an 80 percent growth with its population reaching more than 91,000, 2020 census data shows.
As a result of the region's tremendous expansion, "Job creators have taken notice, and Arizona and its most populous metro region consistently show up on top 10 lists for economic growth, projected job gains, and best places to do business," Danny Seiden, president & CEO of the Arizona Chamber of Commerce & Industry told Commercial Property Executive.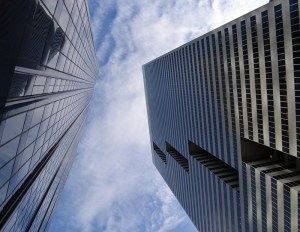 Robust growth drives huge commitments
With continued growth also comes great diversity. Phoenix's economy is driven by six key industries, including technology, biomed, health care, manufacturing, business operations and finance, aerospace and warehousing/fulfillment and distribution, Mark Stapp, professor of real estate at Arizona State University, told CPE.
Owing to this diverse economy, Phoenix employment showed resilience during the pandemic-induced turbulence. The city gained more than 154,000 jobs in the 12 months ending in July, while the unemployment rate stood at 5.8 percent, down 80 basis points over June, according to preliminary data by the U.S. Bureau of Labor and Statistics.
"Manufacturing jobs now outnumber construction jobs. We've seen advanced manufacturing really take off, with multi-billion investments planned by chipmakers and next-generation automakers, but we're also seeing investments from sectors like financial services and insurance, warehousing and logistics, food and beverage manufacturing, aerospace and defense and health care," Seiden said.
Indeed, over the past year, Phoenix saw major players making significant commitments, including Taiwan Semiconductor Manufacturing Co.'s $12 billion and Intel's $20 billion investment into chipmaking factories, which are expected to create approximately 5,000 direct, high-wage jobs, as well as thousands of indirect positions for suppliers and other firms within the semiconductor industry in the next few years.
"Greater Phoenix is beginning to shed its reputation as a second-tier market, even among large, institutional investors. This spring, Phoenix ranked sixth in the nation for places international investors intend to increase their real estate holdings according to a survey by the Association of Foreign Investors in Real Estate," Suzanne Kinney, president & CEO of the Arizona Chapter of NAIOP, told CPE.
Other high-profile companies like Amazon and Microsoft also continued to strengthen their presence in the city. Meanwhile, capital is flowing into Phoenix from electronic and autonomous vehicle manufacturers including Lucid Motors, Nikola and ElectraMeccanica, Kinney pointed out.

Real estate responds
Thanks to the positive demographic trends and continuous business expansions, demand has increased for commercial real estate. Investors and developers continue to find opportunities from residential to Class A office and industrial space across the metro. "This strong, diverse and growing economy coupled with a natural environment that accommodates growth, social changes and the pandemic made the region attractive to investors," said Stapp.
Although the industrial and multifamily sectors—the two leading asset classes in Phoenix—have experienced some setbacks due to the pandemic, both sectors have recovered quickly, posting historic highs in construction, absorption and investment sales activity, Cathy Thuringer, managing director at Trammell Crow Co.'s Phoenix office, told CPE.
Earlier this year, CBRE named Phoenix as the top growth market in the U.S. when it comes to big-box leasing activity, with a 2020 inventory absorption of 9.1 percent. Phoenix also had the most robust industrial pipeline as of July, with 23.9 million square feet under construction, representing 9 percent of the city's existing inventory, according to CommercialEdge data.
"A combination of existing occupiers expanding along with new entrants into the market has created significant demand for new well-located and well-designed industrial product in Phoenix," Thuringer said.
According to CommercialEdge, Trammell Crow Co. owns nearly 1.4 million square feet of industrial space in Phoenix and is set to further expand this portfolio. One year after the completion of the 356,000-square-foot Park Aldea industrial development in the West Valley submarket along West Loop 101, the company revealed plans to develop a second phase of the project, encompassing 570,600 square feet across four buildings.
"Trammell Crow Co. has seen strong tenant velocity in the West Loop 101 submarket leading to 100 percent occupancy in Phase 1 only one year after completing the shell buildings," Thuringer explained. "With this limited supply and increasing demand, we think it is the perfect time to bring Phase 2 out of the ground and provide tenants in the market with best-in-class industrial space," she added.

Preparing for tomorrow
While Phoenix has laid down great fundamentals for economic development, the city needs to continue investing in critical infrastructures—including transportation, water, and cultural and social support systems—to sustain future growth.
According to Kinney, to maintain the region's success, it is important to focus on large transportation projects that are the backbone of Arizona's economy. Providing easy access to Southern California and other regional markets, Interstate 10 has been driving development of distribution centers and other industrial facilities in the West Valley. Likewise, Interstate 17, Arizona's North-South corridor, is also crucial for distribution and keeping people moving.
While Arizona is often described as free of natural disasters, the state's water supply is limited. As droughts worsen and the Colorado River continues to decline, it is important for Phoenix to remain resource conscious. "Based on the 2019 Drought Contingency Plan (DCP), we are currently in Tier 1 reductions that are impacting the state's use of Colorado River water," Kinney said.
The anticipated reductions will primarily impact agriculture, while water for municipal use and key industries, like manufacturing won't suffer cuts, unless a more severe shortage is declared. Earlier this year, Intel and the City of Chandler announced an agreement to construct a new Reclaimed Water Interconnect Facility, which will treat 10 million gallons daily. The water will be used to recharge the city's underground aquifer and for Intel's cooling towers. The $26 million construction will help the City of Chandler to manage future drought, and it will also feed into Intel's recently announced expansion plans.Lastly, although Phoenix is deemed as a more affordable place to live compared to gateway cities, housing prices and rental rates are rising, while the affordable housing supply is shrinking. According to the National Low Income Housing Coalition's Gap report, Phoenix has the fourth worst affordable housing shortage in the country when it comes to households with extremely low incomes, with just 21 available affordable units for every 100 households. Therefore, to ensure fair and diverse growth in the long term, Phoenix needs to invest in closing the housing gap through increasing its affordable housing supply.
"It is important that we drive quality of life for all segments of the community and make the region a sought-after place to live—we cannot expect to continue robust growth by being the low-cost provider, the cheapest place to do business. We must develop a diverse, inclusive community and not treat our growth like managing a commodity," Stapp said.