COVID-19 has impacted hiring across all industries globally according to the latest findings by GlobalData, a leading data and analytics company. While trends were positive for most of Q1 2020, the severe impacts of COVID-19 in Q2 have resulted in job posting declines. While Q3 brought some respite with a resurgence in hiring, the trends are not consistent across sectors, according to the GlobalData Job Analytics Platform.
Aurojyoti Bose, Lead Analyst, at GlobalData says: "The pandemic has impacted global jobs in a highly uneven way across different sectors. The travel and tourism sector has been worst hit while retail and pharma remained relatively resilient. Automotive was also amongst the severely affected sectors."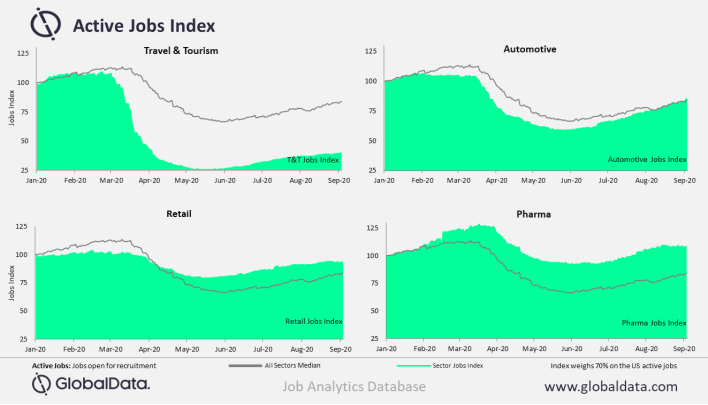 Animesh Kumar, Director of Travel and Tourism Consulting, says: "The slight increase witnessed in jobs in Q3 2020 can be attributed to the fact that the negative impact of COVID-19 has improved in several markets resulting in a small growth in tourism activity as restrictions have been relaxed. Moreover, it could also be attributed to planning and preparations for Q4. In most markets, the November to February period is a peak season due to holidays, festivals and variations in weather resulting in some industry stakeholders cautiously increasing their hiring in anticipation of increased business. The outlook for Q4 and beyond in the travel and tourism sector largely depends on whether tourists shed their apprehensions and start to travel again."
Declining sales in 2019, combined with high inventories, left the automotive industry highly cautious and it was one of the earliest to react. Hiring increased for some time in January but then remained flat till the end of February 2020. Job postings declined over the next four months before showing signs of recovery in Q3 2020. Remote working, online shopping and measured spending is expected to impact private vehicle sales for the foreseeable future. On the positive side, electric vehicles sales are likely to grow. Social distancing is also expected to drive vehicle demand with more people looking to secure personal rather public modes of transport.
Increased demand for consumer-packaged goods, groceries, and medicines has increased the prospects for brands offering an omni-channel customer experience. COVID-19 has spurred demand for healthcare products such as sanitizers, masks, thermometers, ventilators, and medicines, with e-commerce now playing an even more dominant role in global retail supply chains. Hiring across the healthcare and pharma sectors has been selective as major companies develop new drugs and therapies to treat COVID-19 and other diseases.
Bose concludes: "Though the business environment has started improving for several industries, future global jobs demand will depend on how soon companies can resume normal operations profitably in the new normal of COVID-19."