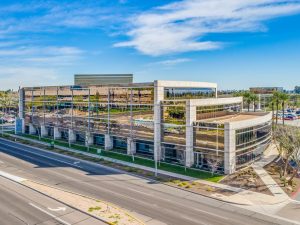 Stewart Title has signed a long-term, 33,254-square-foot lease at 3131 Camelback, a two-building office property totaling 295,401 square feet in Phoenix.
Starting February 1st, the title insurance company will occupy new office space on the first and second floor of the campus' 200,000-square-foot building, located at 3131 E. Camelback Road.
The deal enables Stewart Title to consolidate its offices at 2930 E. Camelback Road and 4808 N 22nd St., housing the employees of its Empire Title Agency division into a single location. Stewart had acquired Empire West Title Agency in 2020, in a portfolio deal that encompassed 57 offices of ET Investments in Arizona, Colorado and Nevada.
The Stewart Title lease brought the building's occupancy rate to 85 percent. The new space will house the firm's commercial and residential divisions, as well as its Arizona-based principals.
"This new location will be a flight to quality as it relates to their upgrade in office space while also taking into consideration all of the variables that came and are coming out of the pandemic," Transwestern Senior Vice President Justin Himelstein told Commercial Property Executive.
Himelstein worked together with Transwestern Senior Associate Nik Vallens in representing the tenant in the deal. Himelstein had also provided tenant advisory and workplace solutions services for Empire West for more than 10 years. Lincoln Property Co.'s John Orsak and Nick Nudo negotiated on behalf of the landlord, Goldman Sachs Asset Management.
A Camelback Corridor campus
CommercialEdge information shows Goldman Sachs had purchased the Class A asset in 2017 from LPC for $81.8 million, financing the deal with a $47.2 million loan from CIBC Bank USA. LPC remained the campus' property manager.
Situated on a 9-acre site at 3131-3133 E. Camelback Road, the Class A campus consists of a four-story and a three-story office building that came online in 1998 and 1999, respectively. The property features 50,000- and 35,000-square-foot floorplates and amenities including on-site eateries, wi-fi-enabled conference/training rooms and an outdoor plaza with covered seating.
The office campus recently underwent a renovation program that brought on touchless entry/exit doors, upgraded lobbies and private balconies. The property's roster features a wide array of tenants including Northmarq, Kforce and Fingerpaint Marketing, among others. The latter relocated its Scottsdale, Ariz., offices to the Camelback address in 2018.
The property is some 8 miles northeast of downtown Phoenix, on the southwest corner of 32nd Street and E. Camelback Road. The location is three blocks west of RED Development's $300 million project under construction starting in June.
A rise in office vacancy
According to a recent Cushman & Wakefield report, the Phoenix metro office market saw a rise in vacancies to 22.9 percent in the third quarter of 2021, a 60-basis-point increase from Q2's vacancy rate. However, The Valley's gross leasing activity also grew with 1 million square feet quarter-over-quarter, from 1.3 million square feet in Q2 2021. Tenants were most interested in Class A buildings for the second consecutive quarter.
With a total inventory of more than 6.7 million square feet, the Camelback Corridor had a 24.7 percent vacancy rate in Q3 2021; at the same time, the submarket was the most expensive in the metro, at an average rate of $35.9 per square foot.