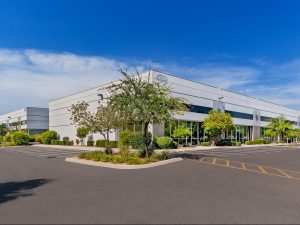 Schnitzer Properties has purchased Westech Business Center I and II, a seven-building, 225,333-square-foot light industrial complex in Phoenix, from LBA Logistics.
According to Maricopa County records, the sale price for the two assets was $46.2 million and the complex is also subject to a $28 million bridge loan with two one-year extension options, originated by M&T Bank. Cushman & Wakefield represented the seller.
Westech Business Center I was built in 1985 on a 10-acre site and offers 143,940 square feet. The property includes loading doors, truck court, refrigerated storage, climate control and 14 feet clear height. It also features 504 parking spaces, with a ratio of 3.50 spaces per 1,000 square feet.
Business Center II was built in 1997 on 6 acres and totals 80,878 square feet. The facility includes loading doors, truck court, climate control and 18 feet clear height, with 324 parking spaces at a ratio of 4 spaces per 1000 square feet. Tenants in the industrial complex, which is 99 percent leased, include Shield Technology Inc., Airtech Environmental Laboratories, Milestone Technologies and New Horizons of Phoenix, among others.
Situated at 4602 and 4710 E. Elwood St., the properties are located at the intersection of Interstate 10 and Highway 134, within 3.6 miles from Tempe and 8.5 miles from downtown Phoenix. Other industrial buildings in the area host Amazon and Arnold Machinery Co. Phoenix Sky Harbor International Airport is 7 miles away.
The Cushman & Wakefield team that represented the seller included Vice Chairmen Will Strong and Jeff Chiate, Director Mike Adey, Senior Associate Greer Oliver and Senior Financial Analyst Connor Nebeker-Hay.
The Phoenix industrial sector
Phoenix has 43.8 million square feet of industrial stock under construction. A recent CommercialEdge report shows that the average price per square foot year-to-date was $248, double the national average of $129 as of June, with an average rent that saw a 6.2 percent increase to $7.28.
Last month, Cushman & Wakefield represented the sellers of a Phoenix Industrial Bay campus in Mesa, Ariz., in a $208 million acquisition made by Cohen Asset Management.