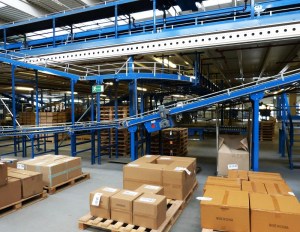 Dallas-based Crow Holdings Industrial has become the latest developer to propose a large industrial project in Glendale, Ariz., near Loop 303 and Luke Air Force Base with its plan for a speculative development totaling nearly 2 million square feet.
Dubbed Crow 303, the project is scheduled to be discussed Oct. 26 by the Glendale City Council, which must approve annexing and rezoning the 146-acre site on the southeast corner of Glendale Avenue and Alsup Road in the West Valley submarket. The city of Glendale has been annexing land near and adjacent to the Loop 303 corridor to increase industrial development.
The site plan is not set yet, but a CHI spokesperson told Commercial Property Executive the buildings could range in size from 50,000 square feet to 1.3 million square feet. The Phoenix Business Journal, which was the first to report the proposal, cited city planning documents stating the development could see up to seven light industrial buildings constructed in multiple phases.The CHI spokesperson said the project is currently speculative, but the team is marketing it for build-to-suit tenants.
If approvals are obtained soon, the developer plans to start construction in the first quarter of 2022. Team members include Hunter Engineering, which prepared the annexation application, and Butler Design Group.
Hot industrial market
The Glendale City Council has also been considering several other projects in the area. One project the city is also reviewing is a 1 million-square-foot development proposed by Ryan Cos. called Ergas 303 that would have four buildings ranging in size from 174,720 square feet to 355,940 square feet, according to the Phoenix Business Journal.
In September, city officials agreed to annex and rezone a proposal from the Pizzuti Cos. to build more than 1 million square feet of warehouse and distribution space on 75 acres on the northwest corner of Glendale Avenue and Reems Road. Known as the Bickman Industrial project, it may eventually have a second phase that could feature two assets at 609,600 square feet each or one at 748,480 square feet and the second at 470,720 square feet.
City officials have not yet acted on a plan from Hopewell Development to build a nearly 1.6 million-square-foot industrial park on about 104 acres at the southwest corner of Northern Avenue and Reems Road. The first phase would have two buildings of 251,250 square feet and 285,419 square feet and the second phase would have three buildings—221,100 square feet, 301,500 square feet and 492,260 feet.
Other nearby industrial developments are G303, a nearly 1.3 million-square-foot speculative industrial park developed by Hines, and The Cubes at Glendale, a 1.2 million-square-foot industrial park being developed by CRG. CRG recently acquired a 268-acre site in Mesa, Ariz., where it plans to develop 4 million square feet of speculative and build-to-suit industrial space at The Cubes at Mesa Gateway.