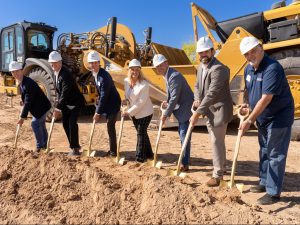 Greystar Real Estate Partners has broken ground on Caliber, a 411,918-square-foot industrial park in Peoria, Ariz. The project is part of Peoria Place, a $500 million, mixed-use master plan that also includes residential and retail space.
Caliber's construction took off as the developer recently received a construction loan of $38.8 million from First Internet Bank of Indiana, according to Maricopa County records. The development team includes Deutsch Architecture Group as project architect and Layton Construction Co. as general contractor. Completion is expected in the second quarter of 2024.
At full build-out, the industrial park will comprise three Class A buildings, ranging from 114,446 square feet to 174,609 square feet. The campus will feature 32-foot maximum clear heights, 50- by 52-foot column spacing, LED lighting, ESFR fire sprinklers, a total of 99 dock doors, six drive-in doors and 554 car parking spaces. JLL Executive Managing Director Tony Lydon, Managing Director John Lydon, Vice President Hagen Hyatt and Associate Kelly Royle will handle leasing efforts at the property.Caliber is taking shape at the corner of 79th and Grand avenues, along State Route 60, in the historical center of Peoria. The property has access to Loop 101, with downtown Phoenix 14 miles away.
Decades-long mixed-use project in the works
Peoria Place is an 88-acre development, which will also include residential homes, retail buildings and 20 acres of open space, with the first residential project to break ground later this summer. The mixed-use master plan, set to revitalize the downtown infill land, started to actively move forward since 2020, when the city approved its rezoning.
First approved in 2006, the initial Planned Area Development (PAD) for Peoria Place included a mix of office, residential and commercial uses. The project was stalled in 2007 due to economic decline, up until Highland Capital acquired the building site. Greystar paid $29.5 million for the land in 2022, Maricopa County records show, and proposed the $500 million project. The now revised PAD situates Peoria Place as a flex mixed-use space.
Other mixed-use developments in the area include a $510 million commercial and residential district, developed by Steinhauer Properties Inc. In 2022, the city of Peoria approved a tax incentive agreement for the construction of the 1 million-square-foot project that will be built over a period of 12 years.
Another mixed-use campus is in the works in Goodyear, Ariz. RED Development and Globe Corp. formed a joint venture to build GSQ, a 150-acre entertainment hub. Construction is set to begin in 2024.