Fiscal Year (FY) 2021 was a record-breaking year for statewide economic development. During the 12-month fiscal period that ended June 30, 2021, the Arizona Commerce Authority (ACA) successfully worked with companies that committed to creating a projected 23,317 new Arizona jobs while investing $24.8 billion in local communities — the most ever for both metrics.
The projected jobs come with an average annual wage of $66,337, nearly $13,000, or 25%, higher than the state average.
Compared to the ACA's FY 2021 goals, the previous fiscal year's results represent 146 percent of the agency's projected jobs goal, 122 percent of its wages goal, and 1,772 percent of its projected capital investment goal.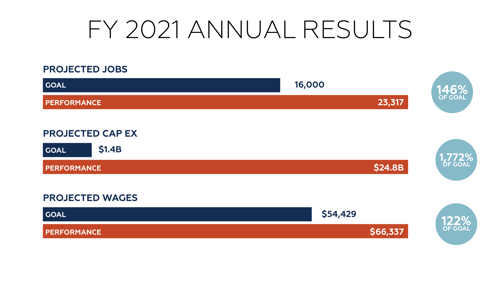 "Our economic development is setting records, our state's fiscal position is as strong as it's ever been, revenues are through the roof and we are experiencing one of the fastest economic recoveries in the nation," said Governor Doug Ducey. "Facing unprecedented challenges, Arizona's innovators, entrepreneurs, and employees have persevered like never before, demonstrating their resilience and grit. I congratulate them and all hardworking Arizonans for continuing to set the national standard for economic excellence. I also want to recognize Sandra Watson and her outstanding team at the Arizona Commerce Authority for their work to grow, strengthen and diversify Arizona's economy."
Contributing significantly to the FY 2021 results was Intel's historic $20 billion investment for two new semiconductor fabs announced in March. The investment will create 3,000 new high-tech, high-wage jobs and support an estimated 15,000 additional indirect jobs in the community.
"Thanks to Governor Ducey and our legislative leaders, Arizona has become the premier destination anywhere in the world for high-tech industries and investments," said Sandra Watson, President and CEO of the Arizona Commerce Authority. "These advanced industries build on one another, bringing more high-tech, high-wage jobs to our state and providing more opportunities for our citizens. With our momentum showing no sign of slowing down, we thank all of our clients and regional and local partners for working with us to grow and strengthen Arizona's economy."
Watch Sandra Watson's interview with Fox 10 below
Major expansion and attraction projects in FY 2021 included Intel, ElectraMeccanica, Li-Cycle, UACJ Whitehall, BD, Shambaugh, The RealReal, TCS, CIS Global, APEL Extrusions, Doordash, ZorroSign, Align Technologies and more.
In addition, TSMC's $12 billion investment to build a semiconductor fabrication facility in Phoenix was named one of six "Manufacturing Projects of the Year" by Area Development Magazine in June 2021. Arizona was also awarded its third Gold Shovel Award in June for the state's success in terms of new job creation and company capital investment in 2020.
Fiscal Year 2021 saw the continued growth of emerging technologies and high-tech industries in the state such as semiconductors, electric vehicles, batteries, renewable energy, aerospace and defense artificial intelligence, quantum computing, and more.
In Business Facilities annual rankings report, Arizona ranked in the top ten for:
Foreign Direct Investment (FDI)
Rate of population growth
Semiconductors
Aerospace and Defense
Solar Power Jobs
Electricity from Solar (%)
Best Business Climate
Tech Talent Pipeline
Arizona successfully won projects throughout the state including UAJC Whitehall, a leading supplier of precision extruded aluminum automotive components and assemblies, which selected Flagstaff for its auto parts plant in March and CIS Global, a manufacturer of linear motion slides and power distribution products for the IT, data center, and consumer appliance sectors, which announced plans to expand its headquarters in Tucson in May.
"Arizona was simply the best state for us to establish ElectraMeccanica's first U.S. assembly operations," said Kevin Pavlov, President and CEO of ElectraMeccanica. "Working closely with the ACA highlighted why Arizona's talent pool, infrastructure and growing electric vehicle ecosystem made it the ideal location for the future of ElectraMeccanica. I would like to recognize Governor Ducey and Sandra Watson for their leadership and the City of Mesa for their collaboration. We look forward to creating quality jobs, contributing to the community and producing our US-made, eco-friendly electric vehicles in Arizona."
This July represented the ACA's ten-year anniversary, marking a decade of economic growth and diversification. Since 2011, the ACA has successfully won more than 976 competitive projects from companies that have committed to creating just more than 191,588 projected new Arizona jobs and investing $55.6 billion in our state.